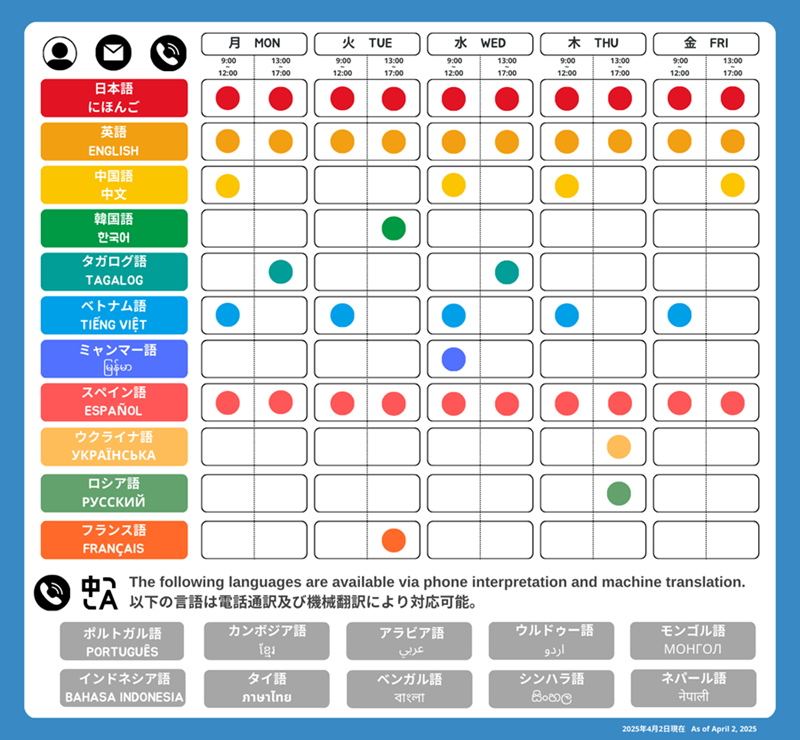 In addition to the 11 languages available, more than 5 other languages are available via a telephone interpretation system.
Peta akses
Hokkaido Foreign Resident Support Center
Job Description
For foreigners residing in Hokkaido, we provide multilingual consultations regarding residence procedures, employment, medical care, welfare, childbirth, child care, education, and so on. Please feel free to contact us. 
Reception Hours
Reception Hours ~Mon. 9:00~12:00 / 13:00~17:00
Kami libur di hari Sabtu, Minggu, hari raya dan akhir serta awal tahun.
Address
〒060-0003
札幌市中央区北3条西7丁目 道庁別館 12階
Docho Annex Bldg. 12 Floor, West 7, North 3, Chuo-ku, Sapporo
Contact
Languages
More than 11 languages including Japanese, English, Chinese, Korean, Filipino, Vietnamese, Russian, Indonesian, Thai, Nepali, and Burmese.